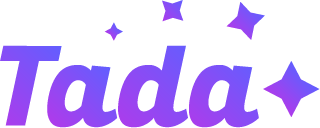 Why did the name change from ShopAtHome to Tada?
The name change from ShopAtHome to Tada coincides with the introduction of a mobile-first experience that emphasizes money-saving opportunities from grocery shopping. Tada is a memorable and unique brand name that conveys the sense of exuberance that members experience when we award them cash back savings on everyday grocery purchases.
Long-time ShopAtHome members will still enjoy the wide selection of online stores that offer cash back rewards along with the addition of cash back on everyday grocery purchases.
Along with the relaunch of ShopAtHome as Tada, we're releasing a new mobile app that makes getting cash back on grocery purchases so easy that you'll think it's magic.
When does the change go into effect?
The relaunch of ShopAtHome to Tada takes effect on May 24, 2021.
How do I login to Tada?
You can login to Tada with your existing ShopAtHome login credentials. Your login credentials have remained secure and encrypted throughout the relaunch of the brand.
Is there a Tada mobile app?
Yes, there is a Tada mobile app for both Android and iOS. The Tada app makes turning grocery receipts into cash very easy. Simply click the "Redeem" button on the app, snap a picture of your receipt and upload it to receive cash back.
What is happening from a technical point of view?
From a technical perspective, we are pointing the existing ShopAtHome website to a new domain and changing the brand name and certain design elements.
What happens to my ShopAtHome rewards balance?
Your existing ShopAtHome rewards balance will seamlessly transfer over to Tada. Whatever balance that appeared in your ShopAtHome account will automatically appear in your Tada account.
Are you changing the reward options that are available to me?
No. All the reward options such as PayPal and dozens of gift card options will remain in place. Over time, we will add new reward options and promote existing ones with special discounts that will allow you to save even more money.